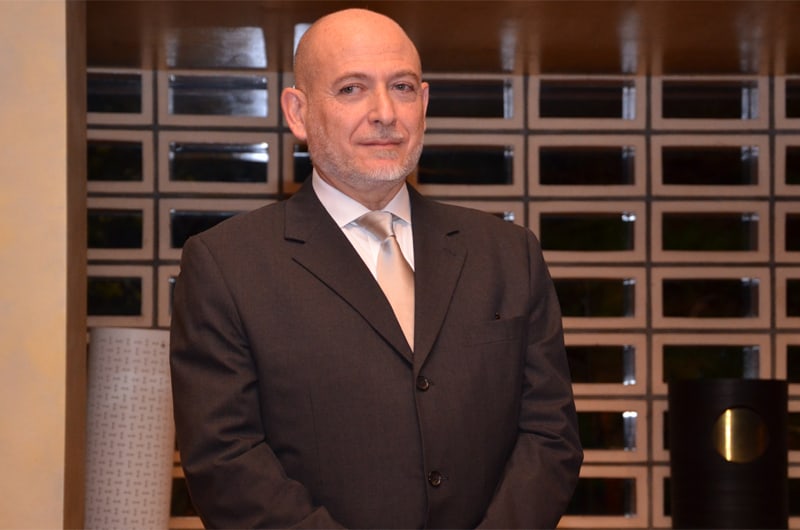 PECS was created in 1991 to cater to the real estate needs of the growing international business clientele in Japan. To date, my tri-lingual team and I have offered to more than 500 international companies our expert skills navigating the regulated real estate market in Japan. PECS has always been dedicated to the service of its clients, and to answer their requests. Our strength is to understand the needs of our customers, and immediately respond to their demands. Surrounded by a network of knowledgeable legal and tax experts, PECS readily adapts to the real estate market while remaining attentive to the constant evolution of Japanese real estate legislation. Specialized initially in residential and commercial rental, our agency has recently expanded its services to the purchase and sale of property in Japan as well as in France. Our services also now extend to property management, development of real estate's projects and maintenance of buildings. PECS remains at your disposal for any additional information. Please feel free to contact us at any time.
Patrick Hochster, President
Company Name
PECS Co., Ltd.
Address
Mikawadai Heights 1F 4-3-6, Roppongi, Minato-ku,
Tokyo 106-0032
Telephone / Fax
03-3423-3330 - 03-3423-0555
Date of Establishment
March 1991
Capital
10,000,000 yens
President
Patrick HOCHSTER
Vice President
Emi HOCHSTER
Brokerage Licensed Manager
Kenji YOSHIDA
Real Estate License
Tokyo Government (7) 63250
Affiliated Associations
All Japan Real Estate Federation
Real Estate Guarantee Federation
French Chamber of Commerce and Industry in Japan
Main Bank / Branch
Sawayaka Shinkin Bank, Roppongi Branch
Sumitomo-Mitsui Bank, Roppongi Branch
Residential Leasing Services
We specialize in leasing of high-grade apartments and houses to the international community in Tokyo. With access to an extensive property database network (around 60,000 properties daily updated), we can offer you the best accommodation option to suit your needs.
What kind of services can you expect?
By phone we discuss about your needs and grasp them quickly and accurately.
At your convenience, we make an appointment and drive you for a visit of previously selected properties.
English, French and Japanese are spoken by our staff.
With your final approval, we undertake negotiations of terms and conditions of the lease agreement in a comprehensive manner.
We conduct full inspection of the property with you including explanation of the operation of all appliances and equipment. Throughout the term of lease, you can expect full service and follow up.
Commercial Leasing Services
Covering the Kanto and Kansai areas, we can find the right office location at any time, of any size, to fit any budget.
We have access to an extensive up-dated database of up to 7,000 listings suitable for uses such as office, retail shop, showroom, warehouse, factory etc…
What kind of services can you expect ?
- Extensive consultation to fully understand your requirements.
- Relocation cost analysis.
- Proposal of suitable office buildings that offer the highest possible quality within your budget.
- Inspection of the sites accompanied and guided in English, French or Japanese.
- Negotiation of terms and conditions of lease agreement.
On request, we can introduce suitable interior design companies with an understanding of international standards and preferences.
Sales
Residential
We provide to our international private clientele exclusive high-grade residential properties located within the Kanto area. With access to an extensive property database network (around 60,000 properties daily updated).
Investment / Development
Our investors receive professional and global services for the sale and acquisition of commercial properties.We maintain excellent business relations with landlords including major Japanese insurance companies, banks, trust banks, construction companies, developers and more…
These relations give us the opportunity to introduce commercial land and buildings for sale suitable for corporate head offices and/or for asset acquisitions with a return on investment.
In order to plan and to develop projects with complex financial structures, we will provide you with strategic, legal, financial and taxation advice with the assistance of renowned international consultants.Land and building surveys and appraisals are provided on request.
Property Management
With our extensive experience in the real estate market, we can provide you with consulting services for new and existing properties development projects so you can make the best real estate investment possible in Japan.
New property development:
We not only assess the potential of a location and forecast future market trends, but we also apply our extensive market knowledge to analyze tenant needs and propose high profit-oriented development projects based on long-term prospects.
Re-evaluation of existing properties:
We can also design unique re-development projects that are geared towards enhancing the value of the property. Based on the property's distinctive qualities, we can analyze demand and supply and assist in project design and construction.
Property Management
Our services include the management of residential and commercial properties such as condominium, house, office, retail shop, parking lot etc...
Management services
-Extensive consultation in order to decide the rent.
-Preparation of marketing materials such as floor plans, brochures etc...
-Property advertising and search of tenants
-Preparation of building rules and regulations
-Preparation and negotiation of Lease Agreements
-Coordination with construction and design companies for renovation and / or repair
-Rent, utilities, common fees collection
-Computerized cost assessment

AAPCJ KK
ACCOR ASIA LIMITED
ADMJ
AFP
AIR FRANCE
AIR LIQUIDE
ALCON JAPAN LTD
AMAKAWA
AMBASSADE DE FRANCE
AMUSE
ARCELOR
ARD GERMAN TV
ASO CEMENT
ASSURANCES GENERALES DE FRANCE
AVENTIS PASTEUR KK
AXA DIRECT
AXA LIFE JAPAN
AXA NICHIDAN SEIMEI HOKEN KK
BABOLAT VS
BANCA DI ROMA
BANKERS TRUST
BANQUE INDOSUEZ
BANQUE INTERNATIONALE DE PLACEMENT
BANQUE NATIONALE DE PARIS
BEAUTE DE PROVENCE KK
BERTRAND FAURE JAPON
BIO MERIUX VITEK JAPAN
BLUE BELLE JAPAN
BMW
BNP SECURITIES
BOSCH AUTOMOTIVE SYSTEM
BOSCH BRAKING SYSTEMS CO., LTD
BOUYGUES TELECOM
BULGARI JAPAN
CAISSE DES DEPOTS ET CONSIGNATIONS
CALYON
CALYPSO TECHNOLOGY
CAP GEMINI
CARMINE KK
CARREFOUR JAPAN
CARRIER TOSHIBA
CARTESIS
CARTIER JAPAN
CBC JAPAN KK
CDC IXIS CAPITAL MARKETS TOKYO BRANCH
CHANEL
CHARMILLES TECHNOLOGIES
CHATEAU RESTAURANT
CHLORIDE FRANCE
CHRISTIAN DIOR
CIS
CITROEN JAPON
CL ASSET MANAGEMENT
CLASQUIN JAPAN
CLUB MED
COGEMA JAPAN
COMMERZBANK
CONFIANCE SERVICES SA
COOKING DEVELOPMENT LIMITED
COURREGES
CREDIT AGRICOLE INDOSUEZ
CREDIT COMMERCIAL DE FRANCE
CREDIT LYONNAIS BANK
CREDIT LYONNAIS SECURITIES
DAITO
DALPAYRAT FOREIGN LAW OFFICE
DANONE
DASSAULT SYSTEMES
DE DIETRICH
DELIVA NET KK
DENTSU PROX
DESIGN HORSE
DEUTSCHE BANK
DEXIA CREDIT LOCAL
DIC MANROLAND
DIXEL
DORMEUIL JAPON KK
EAST GALLERY
EAST WEST ENERGY
ECRIO JAPAN
EDF
ELADY LTD
ELF ATOCHEM JAPAN
ELLE PARIS SA
ENIT
EPT
ERAMET JAPAN
ESTEE LAUDER
ETOFFE EUROPEENNE
ETRALI
EXXON MOBIL
FAUCHON
FAURECIA
FEINTOOL
FG SERVICE
FIELD VILLAGE
FIRST CHICAGO CORPORATION
FL CONSULTING
FO & KORE INC
FOUR SEEDS KK
FRENCH F&B JAPAN
GL TRADE SA
GOLDMAN SACKS
GRACE
GTM
GUILLEMOT KK
HACHETTE FUJINGAHO
HAKIRA
HAND CAPITAL ASSOCI
HFM
HIGHT WEST
HSBC
ICHIKOSHI
IKEA
INSIGHT COMMUNICATIONS
INTER MIX
INTER PARTNER ASSISTANCE JAPAN LTD
INTERNATIONAL M
INVESTER SELECT ADVISORS LTD
IPI JAPAN KK
IPSN NUPEC
ISG TOKYO IMUA
ITALIAN TOURISM OFFICE
ITALIAN TRADE COMMISSION
IWA
JAPAN AIR GASES
JAPAN TABACCO
JP MORGAN BANK TOKYO BRANCH
K TEC KK
KANKYO BIKA
KENZO JAPAN
KK SDV JAPAN
KUEHNE AND NAGEL JAPAN
LACIE JAPAN KK
LAKURATE JAPAN
LANCORDE
LE CORDON BLEU JAPON
LEITNER POMA JAPAN
LES ECHOS
LES GRANDS CRUS DE FRANCE
LID JAPAN LTD
L'OREAL JAPAN
LVMH
LVMH WATCH JEWELY JAPAN
M OUT
MACO PHARMA JAPAN KK
MARSH JAPAN INC
MATRIX SOLAR TECHNOLOGIES INC
MAUBOUSSAN JAPAN
MAZARS JAPON KK
MC DECAUX
MERCATOR JAPAN KK
METRO CASH AND CARRY JAPAN LTD
MHD DIAGEO MOET HENNESSY
MICHELIN GROUP
MIKLI JAPON
MINEMET
MITSUBISHI TRUST INT'L LTD
MIZUNO HAJIME DESIGN HOUSE
MMI
MONBUSHO WASEDA UNIVERSITY
MUSO KK
NESTLE JAPAN
NEW MEDIA JAPAN
NHJ LIMITED
NHK JOHO NETWORK
NIHON GEMPLUS KK
NIHON KANZAI
NIHON TANSHI KK
NIKON ESSILOR CO., LTD
NINA RICCI KK
NIPPON TEXAS INSTRUMENTS
NISSAN MOTORS
NIVIC
NOMURA SHOUKAI KK
NORTON
OBERTHUR CARD SYSTEMS
PACHON ANDRE KK
PARFUMS CHRISTIAN DIOR JAPON
PARIBAS CAPITAL MARKETS
PECHINEY JAPON
PERNOD RICARD JAPAN
PETIT BATEAU & ARTHUR ANDERSEN
PETIT TONNEAU
PEUGEOT JAPON
PHOTONETICS SAS
PMC
PORTAL SOFWARE JAPAN KK
PRADA JAPAN KK
PROJECT MODE
PTC JAPAN
PUBLICIS
RENAULT JAPON
REPOSAL JAPON
RICHEMONT JAPAN LIMITED
S.T.DUPONT JAPON
SAGA JAPAN
SAI AUTOMOTIVE SAL JAPAN KK
SAINT GOBAIN
SANDEN BEHR
SAP JAPAN KK
SCETI COMPANY
SEITA JAPAN
SETTING
SGN
SGS THOMSON
SHINNIHONKANSAHOJIN
SHISEIDO
SHUKYOHOJIN SHINGYOJI ASANO JIMUSHO
SKIPPERS
SKOHLE CORPORATION
SMH JAPAN
SOCIETE GENERALE BANK
SOCIETE GENERALE SECURITIES
SOITEC
SOJU KK
SOKENN HOMES
SOMFY
SOPEXA
SOUKI
ST DUPONT
STILIST
STYLE FRANCE KK
SWAN SA
SYNTHELABO
TASMA OVERSEAS PTY LIMITED
TECHNIP
TECHNO MAGNETTE CO LTD
TECHNOMED INTERNATIONAL
TEISAN
TEMIC JAPAN
TEXAS IJKK
THALES LASER CO., LTD
THE RITZ CARLTON
THOMSON CSN JAPAN
TIFFANY LTD
TIR SECURITIES
TODA MODE
TRANSNUCLEAR
UNIFRANCE
USINOR SA
VALEO-ZEXEL
VALUE COMMERCE
VAN CLEEF & ARPELES KK
VEOLIA WATER JAPAN
VIVENDI WATER JAPAN KK
WEB COMMUNICATION
WINNER'S DREAM
YELLOW CAB
YSL FASHION JAPAN
YUSHO INVESTMENT CO., LTD